Main content starts here, tab to start navigating
JACKIE IS NAVY YARD'S BEST PLACE TO EAT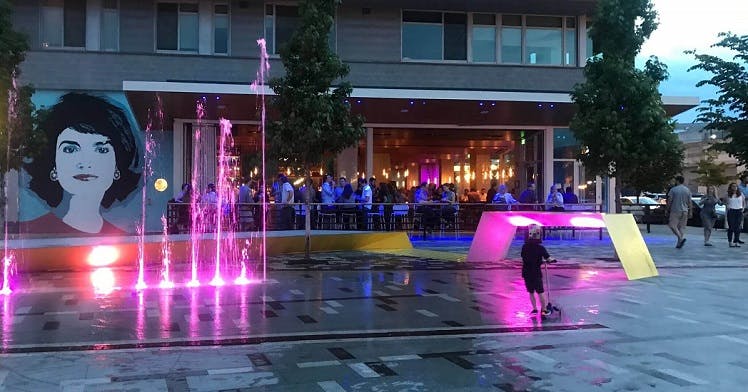 NAVY YARD'S BEST PLACE TO EAT
When you name your restaurant after Jackie Kennedy, one of America's most famous first ladies, the food needs to be unforgettable. Well, just like its namesake, Jackie American Bistro is that and much more. Jackie has an amazing atmosphere, great food, delicious drinks, breathtaking art, and dazzling views. It's the perfect place for a cozy lunch or a fabulous special event.
WHAT WE ARE ABOUT
Its sophistication, coupled with the embodiment of class and an appreciation for worldly tastes that give you the essence of the iconic Jacqueline Bouvier Kennedy Onassis all rolled into one jazzy location.
TASTE THE FOOD
A visit to Jackie is an experience. prepare to enjoy tastes inspired by the world. Many of the menu items are kissed with Asian inspired sides. From the banana ketchup used in the rigatoni ragu to the coconut braised greens, your taste buds are taken on a culinary tour.
Just when you think the menu is headed too far away from what you may be used to, Jackie's menu pulls you back with his classic take on double fried chicken, steak frites and signature Jackie Burger. That's not all. We also offer a breathtaking brunch menu that perfectly sets the mood for a nice, outside dining experience while enjoying a beautiful Saturday afternoon with friends.
Sip on our delicious drafts, classic wines and delectable cocktails created specifically for Jackie patrons while savoring our grilled shrimp or cheese and charcuterie board. This is how you know you are in store for something special.
ENJOY THE ATMOSPHERE
Every single detail at Jackie is done with a specific purpose. When you walk through the doors, you are greeted by a stunning portrait of the former first lady. From there, it's the lighting, the drinkware, furniture, and music that creates the atmosphere of which you want to be a part. Jackie is a place to see and be seen. It caters to the hip. This brings us to what perhaps is the most important detail of any successful Jackie location – the people.
Fashionistas, entrepreneurs, locals, families, friends and couples are what make Jackie the place to be. It's full of energy. It's alive and it brings the community together in a location that celebrates Americana in all its glory. Simply put, Jackie is the place where beautiful people complete the masterpiece. It's a perfectly constructed picture.
THE NAVY YARD
With its mix of shopping, activities and restaurants, Navy Yard is an ideal location for Jackie. It's as if the two were made for each other. The charm Jackie exudes pairs well with other area sites. Instead of an overbearing, stuffy building, Jackie is welcoming and charming. Not to mention its namesake was chosen as an ode to a time, style and class of a time gone by.
The Kennedys were revered for what they brought to the country as far as hope, youth and progressive thinking. That's Jackie. That's the place to be. As your eyes take in the 11 feet by 20 feet mural on the interior wall, it speaks to JFK's vision for America. It also articulates the founders' wishes to create something for the community that grew out of a need to redefine who they were and where they wanted to be in life.
NAVY YARD RESTAURANTS