Navy yard Brunch at JACKIE is a Culinary Destination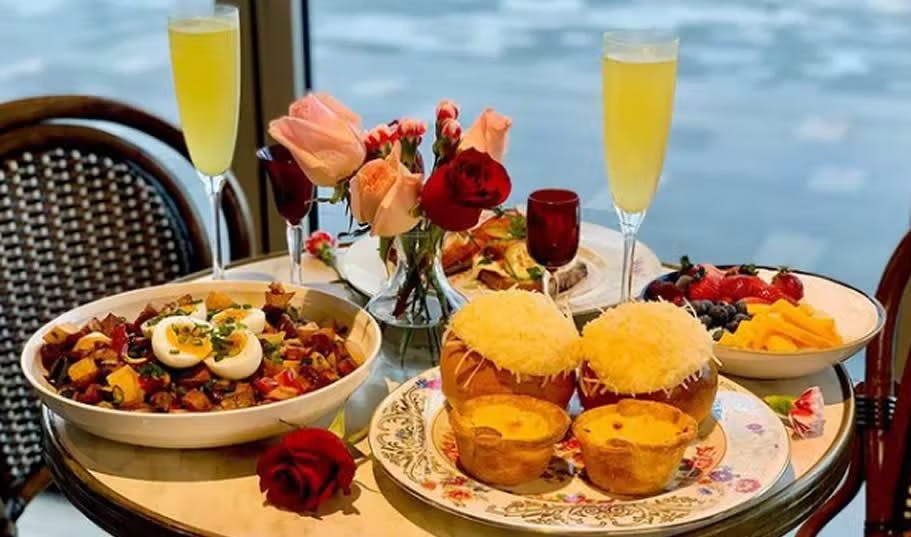 NAVY YARD BRUNCH AT JACKIE IS A CULINARY DESTINATION
An innovative and enjoyable dining experience, JACKIE offers a prime location for Navy Yard brunch and Capitol Riverfront, both fast-growing urban neighborhoods of Washington, D.C., nestled between two major event stadiums.
As a guest at a restaurant in the nation's capital, you might not associate the ideas of comfortable and approachable with an ultra-classy ambiance and sophisticated and upscale cuisine. At JACKIE, however, they go hand in hand, giving customers the best of both worlds.
Game goers and locals are always surprised as they venture into JACKIE for the brunch in the navy yard, in downtown D.C., where the restaurant's fun and inspired weekend DJ spins tunes to dance to and brunch food offerings make it a late breakfast/early lunch to remember.
This is especially valid when customers notice the upscale American cuisine, hand-crafted cocktails, premium wines, and draft beers, all at bistro-paced service, without the crazy strict dress codes D.C. fine dining is known for.
Navy Yard Brunch at JACKIE
JACKIE is a mid-century, modern-style restaurant with an iconic design scheme that effortlessly brings back the timelessness of the era of when JFK was President and sophistication was trendy.
The restaurant attracts locals and tourists with its famous navy yard brunch and the unique cuisine flavors that blend fusion concepts into the American bistro-style menu.
All of Jackie's entrees are familiar but innovative, and the plates offer generous portions of delectable surprises, especially with the navy yard brunch specials each week.
Weekend Festivities at JACKIE
In addition to the navy yard brunch at JACKIE, there are a variety of other weekend happenings to satisfy those looking for different and interesting things to do in the area (besides seeing another D.C. museum or government building!).
Live DJ lounges come alive on Friday and Saturday nights, keeping the atmosphere alive and engaged while customers mix and mingle with their drinks in hand. While D.C. is not short on nightlife, JACKIE makes for a fun evening out, even with the stiff competition in the area.
Additionally, JACKIE's outdoor seating makes dining out an experience to be remembered when a guest comes in from brunch in the navy yard, all year around. The outdoor area offers cooling misters to prevent guests from overheating on hot summer days, and covered plexiglass windbreakers and outdoor heaters to keep them warm in the dead of winter.
An Ambiance to be Remembered
The minds behind JACKIE have made art and design an important aspect of their business. JACKIE's interior is iconic and sophisticated, complete with meticulously blended art pieces themed after the historic and timely relations between the United States and the USSR during JFK's presidential term, the two world superpowers at the time, at a tense moment in history. .
Handmade art and carefully crafted furniture from Berlin, Bosnia, New York, Baltimore, and Pennsylvania have been selected to grace the dining room walls and various rooms of the establishment, creating a relaxing place to see and be seen in world-famous Washington, D.C., where famous politicians seem to be around every corner and every happening place.
Upscale but Welcoming
JACKIE takes the stance that sophistication is not some unattainable status reserved only for the elite and the wealthy, but the restaurant's owners believe the concept is the essence of comfort in one's own skin. A great example of this is the weekend brunch in the navy yard best place to eat, which is both trendy and down to earth.
The mission of the dining establishment and its sister establishment, Dacha Beer Garden (another D.C. restaurant and beer garden that places attention on ambiance and neighborhood charm) is to treat guests like familiar faces and close friends, with the ultimate goal of making them feel welcome no matter who they are or what season they visit.
JACKIE, similar to the Dacha Beer Garden, has charming outdoor seating, generous in its spaciousness yet comfortable and not too crowded or busy, at the very same time; plant screens separate the outdoor dining tables, providing guests a sense of privacy while they seemlessly blend into the setting and ambiance.


The History of JFK Resonates Throughout
If guests are wondering why President John F. Kennedy and his wife Jackie O are the main themes of the restaurant, and what inspired such a unique but fitting idea given the venue's location – in the center of the nation's capital – they are not alone.
JFK and Jackie O were people who took their reputation seriously, like JACKIE the restaurant. Also, the concept can also be traced back to the height of tensions between the USSR and America: a time in which both JFK and Jackie handled themselves with poise and grace despite pressures of hostile international relations burdening their administration.
A Venue to Create Timeless Memories
JACKIE offers plenty of spacious event space, just like its sister location, Dacha Beer Garden. The themed restaurant often uses the space for hosting community partnerships, special events for brunches in navy yard, D.C., and local business promotions. It is also available for guests to rent for their own special moments, however.
The event space is polished and beautifully laid out; it offers the flexibility for many of life's special events, like birthdays, parties, anniversaries, weddings, and bachelor and bachelorette parties. It provides the perfect time for space for a special occasion private navy yard brunch or other events, with hosting capabilities for over 1,100 guests at a time. Now that's some serious company you can invite!
NAVY YARD BRUNCH OPPORTUNITIES
THESE (7) SEVEN OPPORTUNITIES WILL MAKE YOUR VISIT TO THE NAVY YARD EVEN MORE MEMORABLE
Nationals Park was opened in 2008 and has made the Navy Yard neighborhood one of DC's fastest-growing. Every season, the stadium and its surroundings seem to change.
You will get a different perspective of the Anacostia River by paddling along the Navy Yard or Yards Park. You can rent a kayak ($16 per hour for a single, $22 per hour for a two-person) or a canoe ($25 per hour), and you will be able to hear the Nats Park's cheers, watch a Friday night concert, and maybe spot river wildlife.
The National Museum of the United States Navy offers free two-hour walking tours of the Navy Yard. Registration required; e-mail thomas.frezza@navy.mil or call 202-433-4882. 805 Kidder Breese Street, SE. --Melanie D.G. Kaplan
4.Capitol Riverfront Outdoor Movie Series
Take a picnic with you and go to Canal Park's north side every Thursday for free movie screenings.
You can channel your inner circus performer. You don't have to jump off a platform 23 feet high if you aren't comfortable with the idea. Instead, learn trampoline, juggling or partner-balancing. The TSNY local branch offers children a one-day circus experience, as well as summer camps that culminate in performances for proud parents. 1299 New Jersey Ave. SE; 202-479-68661.
6.Fresh Farm Capitol Riverfront Farmers Market
This market is new to the area and features local produce, meats, cheeses, breads, beer, handmade soaps, coffee, and more.
You can get fitted for running shoes, grab a "Runnerd shirt," and show your District pride with DC-flag tank tops and tees. Even if your budget isn't for running shoes, there are social runs that you can take part in.